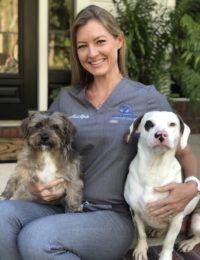 After graduating in 2005 with a Bachelors in Science, Dr. Jessica McAlpin obtained a Master's degree in Public Health, followed by her Doctorate in Veterinary Medicine from the University of Florida.
Early in her career Dr. McAlpin worked as a relief veterinarian, practicing medicine for several Animal Hospitals in the Jacksonville area including Pet Doctors of America where she first met both Drs. Kane and Johnson. Another year of relief and shelter medicine work passed before she settled down in Orange Park where she helped to open PrimeVet Animal Hospital. Five years later, she became Dr. Jessica when she joined Lap of Love and the mission of providing at home veterinary end of life and hospice care. In 2019, The McAlpin Family moved to Saint Johns and a new employment opportunity opened as well. Beginning in January 2020, Dr. McAlpin joined the team of Oceanview Veterinary Hospital working once again with her colleagues.
In her free time Dr. McAlpin enjoys practicing yoga, surfing, photography and Latin dance. Her favorite hobby however is watching the Florida Gators basketball and football games. Gooooooooo Gators!
Her husband, Dr. Ryan McAlpin (also a UF Alumni) is an established dentist in Orange Park. They share a daughter, Lilya born in 2012 and a son Tegan, born in 2015. Their home is completed by one kitty, Mia Maria and 3 dogs, Sada lane, Koa Kanani, and Charlie Rose. Both Dr. McAlpins' are proud to serve Orange Park, surrounding Jacksonville, and now the Beaches!