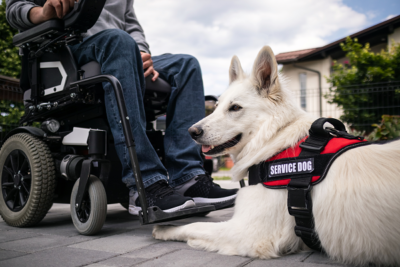 Dogust (a.k.a. August) 4th marks International Assistance Dog Day – a day to recognize assistance dogs and their dedicated caregivers and trainers, and to help educate the public about the important role they all play in society. These furry heroes really do deserve year-round recognition, though, don't they?
Assistance dogs change people's lives by helping them with day-to-day activities, such as going to school and work, cooking, shopping, and traveling, things many of us take for granted. They enable people with disabilities to safely live independently, either by guiding them through public spaces, alerting them to important sounds, retrieving out-of-reach objects, opening and closing doors, or seeking help in emergency situations.
Assistance dogs (also known as service or guide dogs) have been around for centuries. Evidence of dogs leading the blind goes as far back as 79 AD and can be seen on wall paintings in Pompeii! But it wasn't until after the First World War in Germany, when men were returning home from the frontline blinded by poisonous gas, that the idea of training guide dogs took off. Dr. Gerhard Stalling, a German doctor, happened to leave his dog with a blind patient and noticed that the dog was actually watching out for the patient. This gave him an idea, and Dr. Stalling began work on a program to train dogs as reliable assistance dogs for the blind. This opened the door to training dogs for other human services. Now, dogs can act as aids for people with a wide range of disabilities and medical conditions.
Assistance dogs range from guide dogs for those who are visually impaired, hearing dogs for those who are hearing impaired, and service dogs for those with epilepsy (detecting, alerting, or responding to seizures). Some service dogs work with veterans who have post-traumatic stress disorder (PTSD) as well as other conditions after active duty. Others support those living with conditions like autism, diabetes, multiple sclerosis, cerebral palsy, arthritis, and cancer.
Dogs that are well-suited to this type of work usually have a quiet and calm disposition, a high level of intelligence and motivation to learn, a good attention span, and a strong drive to work. Breeds commonly trained as assistance dogs include Golden Retrievers, Labrador Retrievers, German Shepherds, and Standard Poodles, as their intelligence, size, and temperament make them well-suited for service work. Many large and mixed breeds can also be successfully trained as assistance dogs. Sometimes, people in need of an assistance dog can have their own dog specially trained for the role if they meet the criteria.
It's important to remember the following rules of etiquette when you're around a puppy- or dog-in-training or fully qualified assistance dog:
Do not pet the dog.
Do not talk to the dog.
Do not distract the dog in any way.
Remember to speak to the handler instead of the dog.
If you're affected by a disability and believe an assistance dog could improve your quality of life, there is likely a program near you that could help. Oftentimes, the cost of an assistance dog is covered by generous program sponsors and donors and, if not, financial support is available. If you're not in need of an assistance dog but want to get involved as a trainer, volunteer, or donor, your support will be MUCH appreciated!
Assistance Dogs International is a worldwide coalition of reputable programs that train and place assistance dogs. Here, you can learn more about the types of work these dogs do and programs that are run in your area. Visit their website and learn how to get involved today.